Salvation Army's Adopt a Family
Salvation Army's Adopt a Family
Thursday, December 7, 2017

Important: This event has already occurred.

7:00PM - 9:00PM
Walmart - Eagle Landing Chilliwack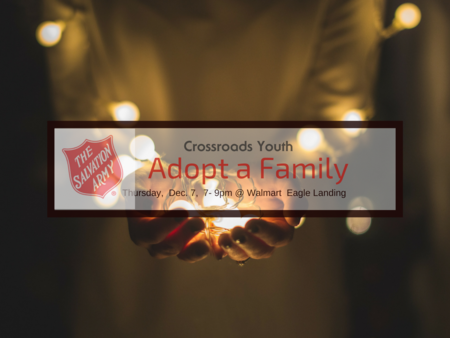 December 7th 7:00PM-9:00pm @ Walmart Chilliwack, Eagle Landing Parkway. Cost $5

Drop off and pick up at front doors beside McDonalds

As participants in Salvation Army's Adopt a Family program we are looking forward to this opportunity to buy gifts for families in need here in our community.
Please arrange to be dropped off and picked up from Walmart.
We will meet inside the main entrance beside McDonalds to connect with others in our group.
Look for your small group leaders there, they will have the profile for your family!

Cost:
Bring $5 each to help provide turkey dinners for the families we are adopting.

You might also want to bring $$ for dessert at McD's after!

Christmas is the time to give, so bring a friend and come volunteer your time to help provide sustaining food and gifts to bring joy to those in need here in Chilliwack!
Ministry Youth
Return to Events
---